Ateliers deMonaco participates to the Independent Watch & Art Salon 2017, Taipei, Taiwan which takes place between September, 28th – 30th.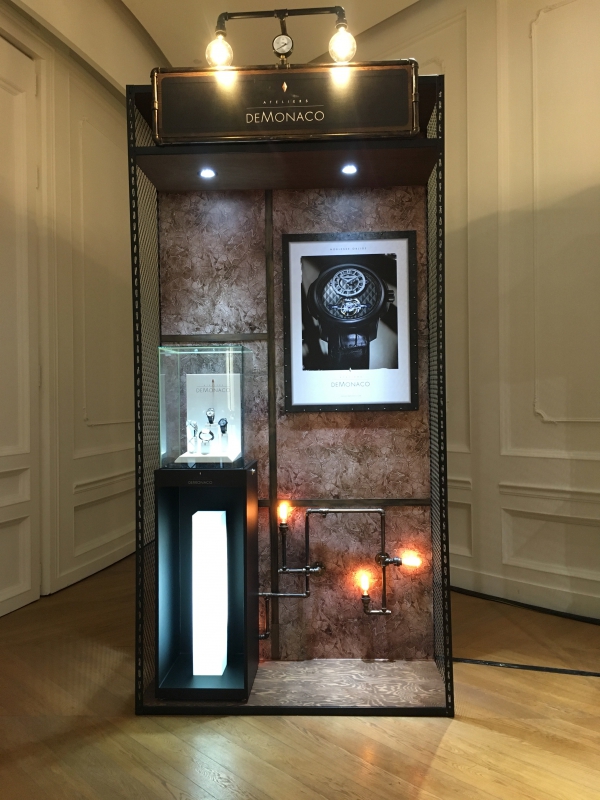 NOBLESSE OBLIGE
Fifth Annual Independent Watch and Art Salon Exhibition Taiwan Unfolds on 28 September
Asia's Premium Independent Watch Event Lines Up 10 Independent Swiss Watchmaking Brands. Presenting this year's theme "Steampunk"
Devoted to the passion to independent watchmaking, the now fifth Independent Watch & Art Salon Taiwan (IWST) will be held on September 28, 2017 at the Art Gallery located at B1, Bellavita. Due to its rapidly growing success, the event is now one of the key exhibitions for independent watches in Asia with now 10 major brands participating. Apart from showcasing latest creations by these prestigious independent watchmakers, as in its tradition, IWST will once again work with Taiwan's local artists to visually interpret the essence of IWST as well as fusing the creativity of the East and the West. In addition, taking the theme of "Steampunk", IWST will take us back to the glory of the Victorian Era.
Reflecting on the past year, the haute horlogerie industry, mostly headed by watchmakers from Switzerland, faced an extremely difficult year. All the leading players implemented drastic strategies and decisions as response to the market crisis, including change of ownership. On the other hand, independent watches, each with its innovative and creative styles and lower in production volume were able to maintain its success. These watches have become more and more collector's pieces. As the result, they still stand out with excellent market performances. This success is reflected in this year's IWST exhibition with the same impressive lineup of participating brands. And their innovative designs will for sure to appeal to more and more audience in the future.
10 Prestigious Independent Watch Brands, 10 Luxurious Watchmaking Arts
As the distributor of numerous premium independent watches, Swiss Prestige presents an impressive list of participating brands for IWST: Atelier deMonaco, a watchmaking brand that takes inspiration from the rich culture and heritage of Monaco to create the world's most precision mechanical movements, will be attending the event for the first time. Christophe Claret, a symbolic brand for premium Swiss independent watches that always stir up the industry with its creations, will be attending for the fifth time in a row. Greubel Forsey, an expert in finely crafted precision mechanisms in pursuit of zero time error, is also making its attendance as usual. HYT, the watchmaker that pioneers in fluidics watches, will be presenting more innovative creations this year.
MB&F, a highly acclaimed brand with rare but highly sought-after watches and a brand that is very highly regarded at top international auctions is expected to introduce a mysterious new creation at this year's IWST. M.A.D Gallery, also from MB&F, will also undoubtedly be presenting several enchanting mechanical devices.  Manufacture Royale, a brand established by French philosopher Voltaire, will be introducing its latest works that feature unimaginable complications. Speake Marin, an innovative watch brand established by the visionary English watchmaker, after the change of management, will for sure be bringing us more ingenious watch pieces. Romain Gauthier, a brand that only manufactures 50-60 timepieces each year and viewed as the true apprentice of Philippe Dufour, another visionary pioneer in independent watchmaking will be attending for the first time this year. And lastly, URWERK, an award-winning brand known for its revolving satellite complications and a brand whose watch was the designated watch for Robert Downy Jr. in the film "Spider Man: Homecoming" will also be making its attendance.
The Glamorous Steampunk at IWST 2017
Following the success of annual themes of "Infinity Gear" and "Watchmaking Wonderland" in the previous years, IWST introduces "Steampunk" as the theme for 2017. The exhibition starts with blueprints of the Industrial Revolution of the past century and moves through motifs from the Victorian Era and contemporary sci-fi details, bringing to us the various elements, including gears, watches, mechanical devices, and more from the films of Japanese film director Miyazaki Hayao. And to echo the spirit of this theme, the exhibition also presents artworks of Taiwan's artist Tsung- Ti Huang, an artist whose works are full of industrial artwork style that focus on handwork details. These works mixes the forms from Chinese mythology "Classics of the Mountains and Seas" with Punksteam style.
2017 IWST exhibition will start on September 27, 2017 at the Art Gallery located at B1, Bellavita. The first day for the 4-day exhibition is a private opening party. And September 28 and 29 will be reserved for VIP private views. The exhibition will be open to public on September 30. Please do not miss this rare opportunity to look inside the world of independent watchmaking and experience it from a different perspective.