Produced in partnership with the architect and designer Luca Stradivari, a direct descendant of legendary luthier Antonio Stradivari – creator of the famous Stradivarius violin – the new Admiral Chronographe Flyback Stradivari watch is a wonderfully refined and beautifully orchestrated device. Available in four limited editions (steel, 18 carats rose gold, white gold and yellow gold), fans of fine watchmaking are sure to appreciate the difference this striking creation with its geometric dial and ingenious chronograph flyback function will make to daily life.
The meeting of two universes
Italian design and watchmaking appear to be a natural fit. Both are arts practised at the highest level and instrumentalised by exceptional objects, cleverly constructed from choice materials. They require knowledge of materials, finesse in execution, harmony of lines and carefully preserved know-how, to which only the designers and artisans hold the secret.
It was in Monaco, where the watch brand began, that these two worlds were brought together. The talented architect and designer Luca Stradivari teamed up with Ateliers deMonaco to create something of great quality with real personality. Eager to make the most authentic and – on occasion – the wildest dreams come true, Luca Stradivari has infused the new Admiral Chronographe Flyback Stradivari watch with his exhilarating creative energy. His keen eye for curves, lines and perspective has influenced the silhouette of this timepiece, its relief and dynamism as daring as its creator.
Ancestral inspiration
More than an architect and designer, Luca Stradivari, has also inherited a particular sensibility from his ancestors that has undoubtedly intensified his pursuit of perfection. He can in fact claim to be a direct descendant of Antonio Stradivari, the renowned luthier who designed the finest violin of all time, the famous Stradivarius.
Luthiers and watchmakers share the same passion for excellence. Between the dancing cogs and the accuracy of the keys, their expertise comes down to long hours of demanding and meticulous work. Attention to detail and precision of movement set the tone for these creations being handcrafted in workshops by artisans dedicated to designing the perfect instrument.
This is demonstrated by the fact that 300 years on, no one has definitively solved the mystery of the legendary Stradivarius and its uniquely special sound. In spite of the many theories surrounding the specific make-up of the varnish used, the internal wood structure, its chemical treatment – or even micro-glaciation – for improving its resonance, none of it has been established for sure to this day.
Growing up in a world where he came into contact with very finely crafted objects produced to the highest standards from an early age, Luca Stradivari has developed his vision of the perfect object made from the finest materials.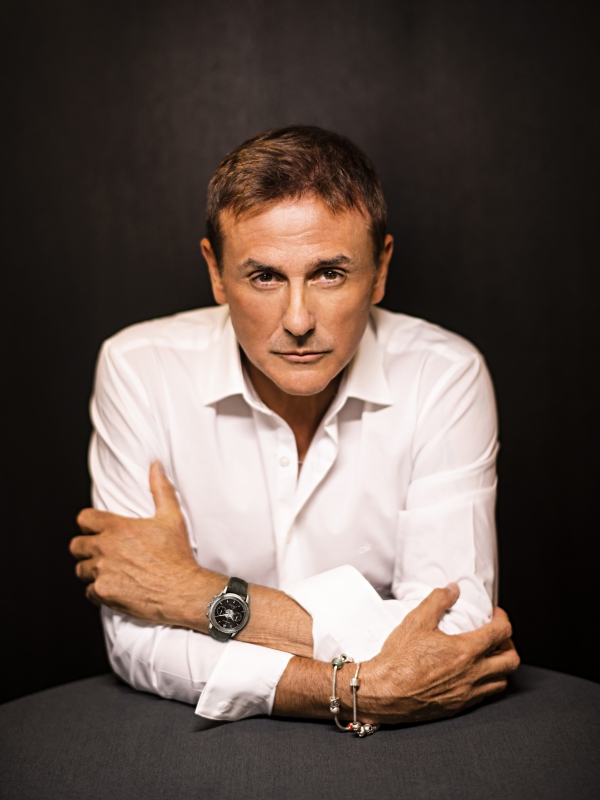 High-quality finishes
What makes a great instrument for measuring time? Its contours, personality, materials and finishes. The new Admiral Chronographe Flyback Stradivari timepiece has it all.
Housed in a 42 mm case enhanced by a raised middle, the well-defined black geometric dial with intertwining lines capable of transporting its admirers to other horizons reveals the dreamlike spirit of Luca Stradivari. Coated and curved, bold polished triangular hour markers in opposite directions frame this fantasy and give the piece its dynamism. Elegant dauphine hands indicating the hours, minutes and seconds of the chronograph glide over the signature of the architect and designer, given pride of place at 6 o'clock. At 9 o'clock, you'll find the small seconds counter and on the opposite side, the chronograph's minutes counter.
In keeping with its passion for Fine Watchmaking, Ateliers deMonaco has given its latest creation an open case back allowing the dMc-760 calibre to be admired. Decorated by hand, there is intricate circular satin-finishing, perlage, Côtes de Genève, chamfering and traits tirés adorning the bridges. Completing the piece is the signature 22 carat gold oscillating weight, a feature of all the brand's automatic watches, carefully revolving around the movement. Beating at a frequency of 28,800 vph, it has a power reserve of 38 hours.
There are four limited edition models available: one steel model limited to 88 pieces and 36 in 18 carat gold, including: 12 white gold, 12 yellow gold and 12 rose gold.
Finally, to ensure the various elements can be appreciated in exceptional detail, the two sapphire crystals on the case (bezel and case back) benefit from an anti-reflective treatment on both sides.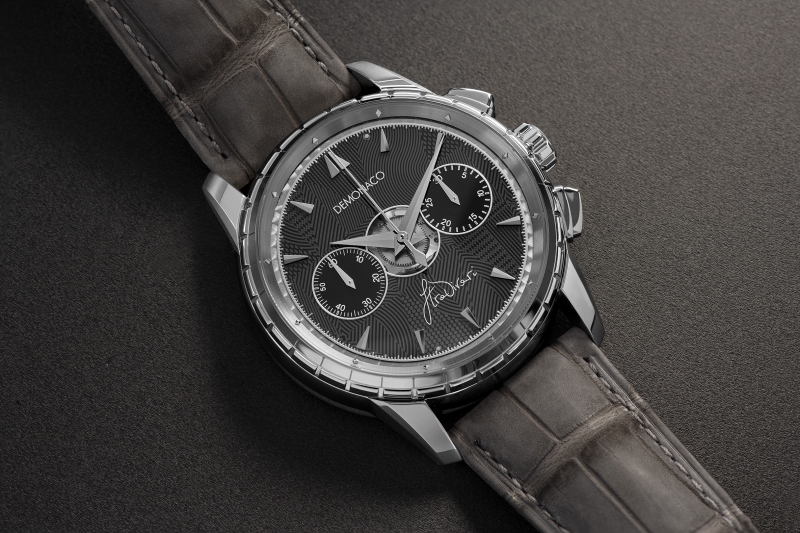 A patented mechanism
The flyback function first appeared in 1936, enabling pilots and elite athletes to time themselves over long and short distances. A straightforward concept, it allows the chronograph to be stopped, reset and restarted with a single press of the push-piece, rather than three successive presses.
True to its goal of making complications both easier to use and more efficient, the patented Admiral Chronographe Flyback by Ateliers deMonaco is no exception. This feature measures a succession of elapsed times, while eliminating many repetitive and unnecessary operations. The flyback module has only 96 parts, making it one of the most efficient flyback modules in the world, as well as one of the most affordable, thanks to its ingenious construction.